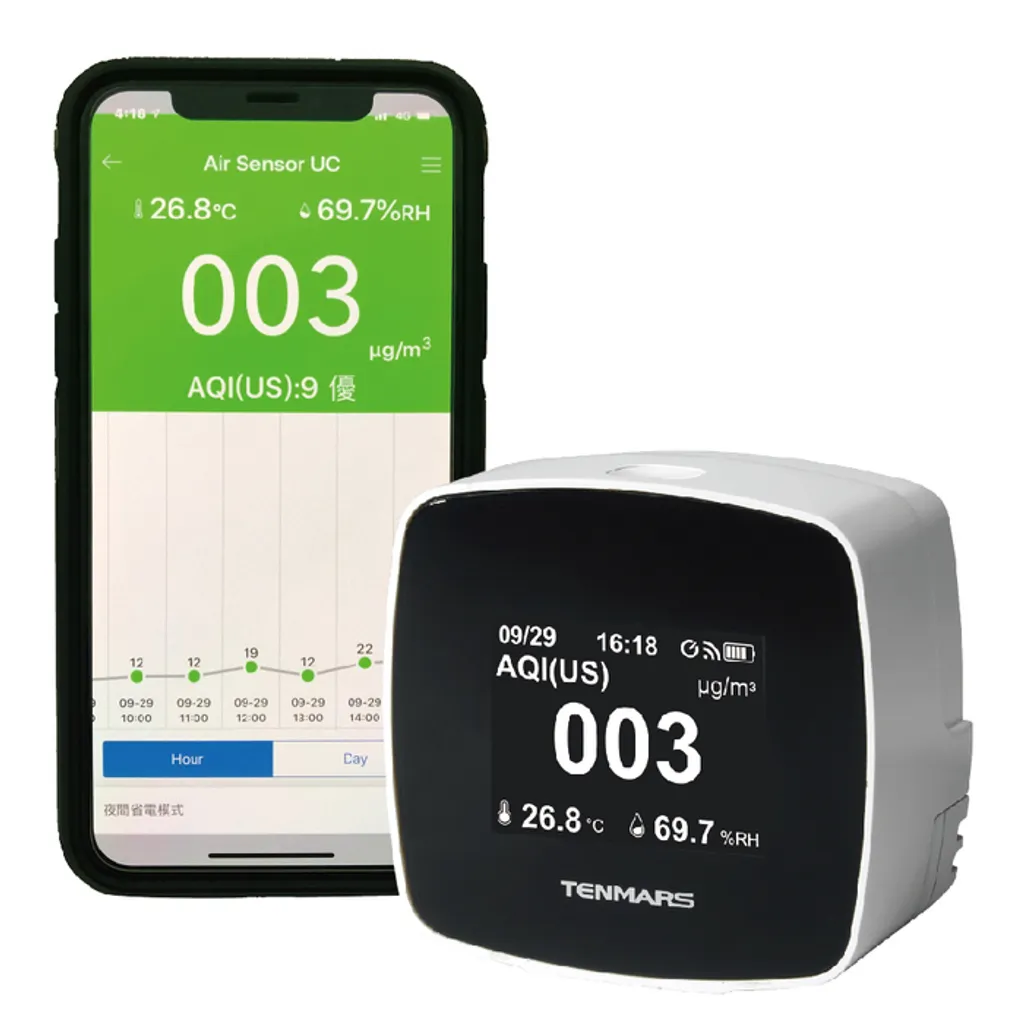 PM 2.5 Indoor Air Quality Monitor ( TM-280W )
Model : TM-280W (Wifi )
PM 2.5 Indoor Air Quality Monitor
Features:
Instant measurement PM2.5

Instant clock hour and month display

Ambient Humidify and temperature measurement.

When the meter's WiFi(TM-280W) is turned on, you can use the mobile phone APP to view the PM2.5 real-time and historical data.

Easy operation from the one button on the top, switch between the function of PM2.5, US AQI or CN AQI.
Specifications:
2"TFT LCD display

Wifi ON / OFF button

Power supply: 3.7V 18650 2600mA/h rechargeable lithium battery, battery life 8 hours

AUTO power off

Power-saving management: Energy-conservation at night the preset is PM10:00~AM7:00, the function preset is off.

Six colors bar-graph display correspond to the PM 2.5 AQI index indicate the different levels of health concern.

Dimension: 84 * 81 * 55 mm

Weight: about 215g
Measurement range of particulate matter (PM 2.5)

0-500 μg/m3

Reaction time

< 10 seconds

Temperature measurement range

-20~50°C (-4~122°F )

Reaction time

5 seconds (at least)

Measurement range of humidity

1 - 99% RH

Resolution

PM 2.5→1

Temperature and Humidity→0.1

Reaction time

8 seconds (at least)

WIFI wireless

Antenna type

internal

Protocol

A-MPDU and A-MSDU aggregation and 0.4 µs guard interval support

Frequency range

2.4 GHz ~ 2.5 GHz
Note : Mobile phone not included ( Picture is for illustration only )
Note : All the above descriptions are subject to change without notice
Country of origin : Taiwan.
Warranty : 1 year against manufacturing defects.

Remarks : For warranty claim :-
1) There is NO one to one exchange.
2) Unit need to sent back to manufacturer for rectification & repair.
Delivery : 3 to 5 days (in-stock unit) else 2 to 4 weeks (pre-order unit) subject to factory confirmation
Free Shipping Within Malaysia
Contact us @
Tel : +6012 728 1063
Email : enquiry@giitechnology.com