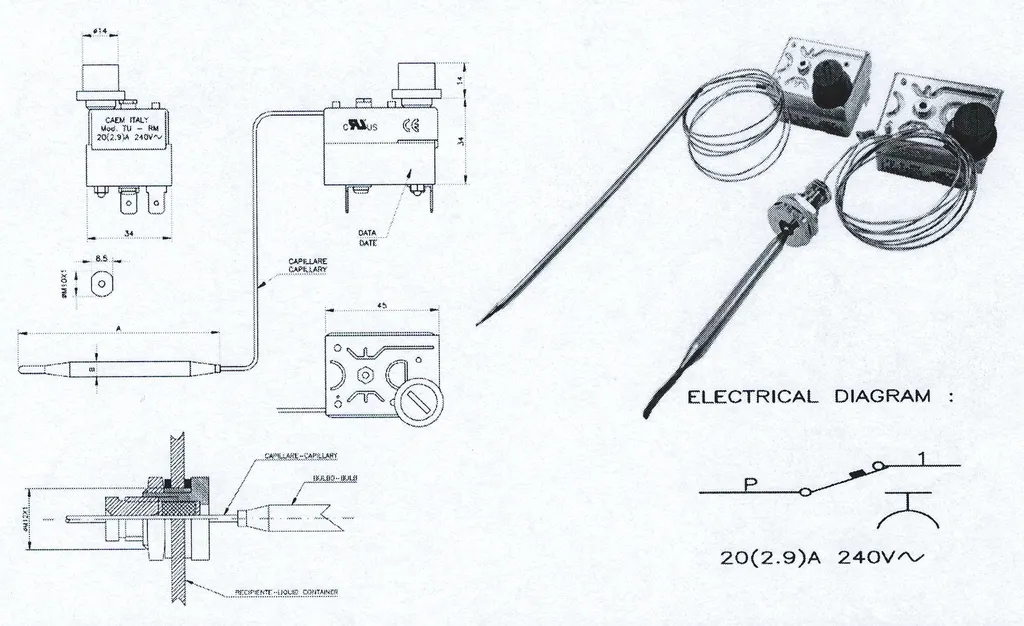 CAEM Safety Thermostat ( TU-V-RM )
CAEM Safety Thermostat ( TU-V-RM Series )
Single Pole Electric Safety Thermostat
Manual Reset Button
Rating : 240V, 20 Amp
UL-CSA-ENEC approvals
CAEM TU-V-RM series, a single pole manual reset thermostats, which are factory calibrated to a predetermined temperature range for safety cut-off.
When temperature rises, the internal fluid located within the bulb expands through a capillary tube to an expandable diaphragm that is configured within the remote thermostat body. This diaphragm assembly de-activates the electrical contacts at the calibrated temperature set point until the auxiliary button is been reset.
Model

Temperature range

Sensor size

Capillary Length ( mm )

Stuffing box

Ø ( mm )

Length ( mm )

TU-V-RM SPST-120

120°C

5

90

900

M12

TU-V-RM SPST-160

160°C

5

80

900

M12

TU-V-RM SPST-240

240°C

5

80

900

M12

TU-V-RN SPST-360

360°C

3

145

900

NIL
Note : All the above descriptions are subject to change without notice
Country of origin : Italy
Delivery : Pre-order unit subject to factory confirmation
Subject to minimum order quantities
Goods sold are non-returnable.
Free Shipping Within Malaysia

Contact us @
Tel : +6012 728 1063
Email : enquiry@giitechnology.com